About Us – An Exclusive Look Inside The Home of Angela Hagerty, Interior Designer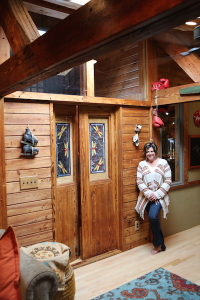 Owner of InDesign Interiors, Angela Hagerty, has over 20 years experience in the industry. Angela has a background in architectural drafting which gives her an edge in creating functional space while keeping decorating a focal point. She studied interior design and architecture at Endicott College and continued her education at Wentworth Institute-Technology.
Prior to starting Indesign Interiors, Angela has worked with such clients as Triumph Technology, UCCRTS, Dunkin Donuts Corp, the Prudential Skywalk, Gillette Corp, MFS, New England Life, The Museum of Science in Boston, and extensive government jobs including Hanscom Air Force base, Logan Airport and more.
Angela has extensive experience in residential interior design and commercial interior design. Please take a peek at some of her transformations featured throughout the website. Angela's warm personality and genuine interest in each client exudes stunning and sophisticated results. She strives to make the design and decorating process fun with her daring designs. Her valuable connections with top craftsmen in the industry will help make your design project a success.
Angela is known for thinking outside the box. She frequently seeks out of the way spots to find that special piece of home decor. Sometimes it takes a unique design accessory to put the finishing touches on an interior design project. No project is too big or too small for Angela. Whether you need a kitchen or bath design or a whole house, Angela is privileged to be a part of your interior design project.