Furniture / Contract Furniture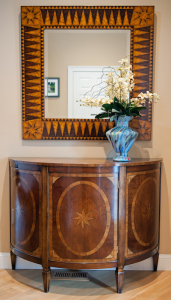 InDesign Interiors has extensive knowledge and experience in commercial and residential furniture. We have access to several luxury furniture lines representing both domestic and international products. We are also highly skilled at achieving your custom built needs and specific pieces. The furniture collections we recommend are stylish, functional and comfortable with contemporary, traditional and transitional flair.
InDesign Interiors is inspired by top furniture manufacturers including but not limited to:

• Bernhardt
• Century
• Drexel Heritage
• Hooker
• American Leather
• Sherrill Furniture Company
• Lexington

• Baker
• Lillian August
• Herman Miller
• Trendway
• HON
• Teknion
Our years of work have created well established relationships with vendors resulting in exclusive discounts and access to product lines. Our services include searching and obtaining quotes for your projects from our nationwide affiliates.
We have an extensive background in retail furniture sales. Our Interior Designers can provide you with information about the latest furniture design trends. Owner, Angela Hagerty will guide you through the process of selecting some of the finest woods and materials that will be used in your home or office for years to come.
InDesign is committed to getting the best product for your dollar. InDesign will act as your budget manager and will help you optimize your design funds, whether it's integrating your existing furniture into a new design scheme or offering several design alternatives for a particular commercial or residential space.
InDesign also works closely with direct end users of contract furniture. Our expansive connections allow for us to obtain refurbished furniture that will meet your needs while being cost efficient. We have an important relationship with those who buy furniture from companies that have moved on and turnaround a great refurbished product.