Space & Floor Planning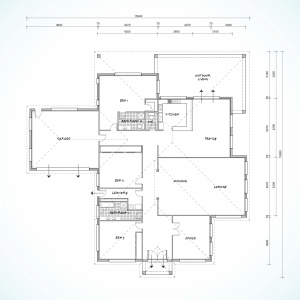 InDesign Interiors knows the importance of space and floor planning. This process initially requires our firm to visualize your space in three dimensions with a keen sense of composition, scale and proportion. InDesign will exercise our expertise in this area whether we are using existing space more efficiently or building new or future space.
Our preliminary planning can help determine structural and building elements that may be more accommodating to furniture and equipment placement. The purpose is to give you appropriate suggestions when it comes to dimensional calculations for furniture standards and space functionality. For instance, in a residential bedroom the windows and wall space will be determined by the size of the bed and who is sleeping in the room.  A commercial space where an organization has grown, downsized, or simply reorganized may need planning for the size of cubicles, offices, conference areas. In new and renovated construction these types of questions need to be asked and planned before building.
When planning we consider numerous design parameters, project goals and priorities, organizational structure and relationships. We take pride in our knowledge of space allocation criteria, building codes, work flow and access for the disabled.
Our space planning services typically begin after the program phase or known as tenant fit-up. Programming includes a space assessment, which consists of a list of existing or proposed areas and specification of furniture, furnishings, and equipment. The interview process is to gather information to help support the new design. We estimate the square footage needed for each function in the space. Sketches/schematic drawings are produced to illustrate spatial positioning. InDesign Interiors works in AutoCad 2014. Computer-aided design (CAD) and drafting programs are used for diagramming and for preparation of layouts for interior construction and structural documents.